Look Who's Back!
Anna - "I am sad that Davina has gone. It came as such a surprise."
Tony - "I will miss her as well, but we'll see her soon. I miss her as well."
Both of the remaining housemates were rather low because of Davina's surprise eviction. They also knew that it could have been them but they know they are now here for the last three days. They went straight to bed, still quite low and not expecting Sim Brother's latest surprise.
At 2:16am, Sim Brother had sent an old friend back to the house to keep Tony & Anna company, cheer them up and keep them entertained.

Well, that's what Sunny The Clown claimed he could do.
A Change of Challenge
Despite Sunny's efforts, both of the housemates have slept soundly and at 10am were enjoying burgers for breakfast that Anna had grilled on the barbecue.
SB - "This is Sim Brother. Firstly, you may have noticed the change in the garden. You now have a volleyball net, kindly donated by the Vacation Island Tour Company. Feel free to use this for your leisure -"
Tony - "That's nice of him but there has to be a catch."
SB - "However, your task has changed. Your challenge is now to get force Sunny The Clown to leave the house voluntarily before the end of the competition. Use whatever means necessary."

Different Approaches
Tony used diplomacy and persuasion.

Tony - "Now, Sunny. I know your Burger Franchise is in trouble and you have to do this kind of work to help make ends meet. However, I promise you that if you leave us alone now, when I get out I will lower the Commercial Tax Rate so you don't have to do this."

This didn't work.
Anna used a direct approach and slapped him.

Anna - "Even 'The Crankies' are funnier than you! GET LOST, YOU ANNOYING CLOWN, AND NEVER BOTHER US AGAIN!"

This didn't work either.
Let's Play Ball!
At 11:30am, they gave up paying Sunny any attention at all and started playing volleyball.
Anna - "
It's not tennis but it's the closest we will get. I'll serve.
"
Tony - "
May the best person win.
"
Anna - "
She will.
" ;)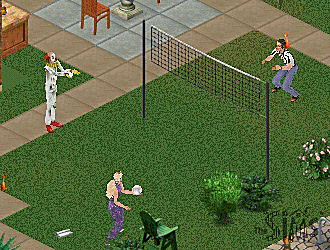 Anna showed some spectacular moves, although Tony did not give in easily and made some formidable plays. Anna had the edge, though, and played the Match-Winning Shot!
Anna won, 10 games to 4. Tony & Anna would have enjoyed the After-Match bath if Sunny had not been hovering around.
Separately, they went to bed shortly before midnight. Sunny was still with them and it did not look like he was in the mood to leave.
Sim Brother Series 1 Index